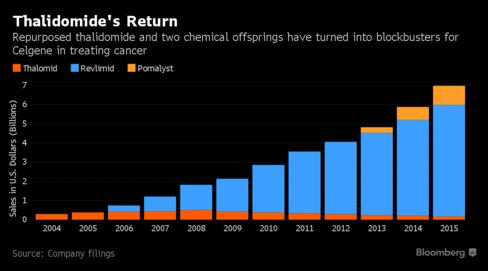 The modern drug-regulation system traces back to a once-popular morning-sickness pill whose linkage to babies born with flipper-like limbs in the 1960s led the U.S. to tighten oversight for approving medications.
That makes it all the more amazing that Celgene Corp. has built itself into a biotech powerhouse, rebranding the drug thalidomide using a slightly different name: Thalomid. Recently unsealed documents in a lawsuit by a company saleswoman-turned-whistleblower allege that its success is due to an aggressive campaign to encourage doctors to prescribe it and successor drugs to treat maladies beyond those the FDA authorized.
After some studies suggested thalidomide could treat blood cancer but long before it was authorized for it, Celgene created a thriving market by hiring doctors to tout uses beyond what the product was approved for and ghostwriters to promote the drug in medical journals, according to the suit. Though doctors have broad latitude in prescribing drugs, even for uses that arent approved, drugmakers cant push off-label uses. Manufacturers including Pfizer Inc. and Johnson & Johnson have paid billions of dollars to settle such claims.
Even after the Food and Drug Administration approved Thalomid for multiple myeloma, a blood cancer, in the mid-2000s, Celgene continued to promote it for other forms of cancer, including cervix, thyroid and brain, whistleblower Beverly Brown alleges in the suit, filed in 2010.
Celgene vigorously disputes the allegations.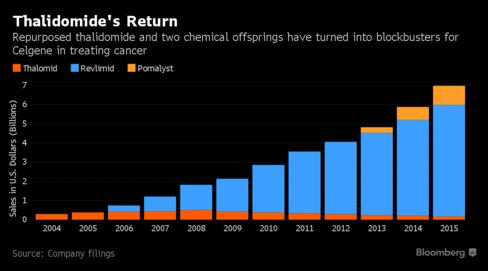 Although the U.S. Justice Department declined to join Browns suit, which claims Celgene defrauded government insurance programs by marketing its drugs for off-label uses, a California judge cleared her case for trial.
These allegations, which date as far back as 15 years, are baseless, Celgene spokesman Brian Gill said in a statement. Celgene is committed to patient safety, and its products have improved and extended the lives of many thousands of cancer patients.
First sold as a sedative in West Germany in the 1950s, thalidomide became an over-the-counter sensation in Europe. The FDA rejected the treatment as a morning-sickness pill in 1960, over concerns about separate side effects. In the wake of the controversy over birth defects, U.S. rules on reviewing drugs were tightened.
Revolutionary
In the 1990s, Celgene was a small biotech firm that had never brought a drug to market. A study showed thalidomide, then being used to treat leprosy overseas, might help against HIV-related weight loss. Researchers found the compound tied to birth defects might also fight blood cancers such as multiple myeloma. Federal regulators knew many oncologists regarded Thalomid and Revlimid, its chief successor, as revolutionary, Celgene said, according to the court documents.
It wasnt until 1998 that the FDA approved Thalomid for a form of leprosy. The regulator, however, insisted on measures to ensure pregnant women wouldnt take it. In 2005, Revlimid was approved for one type of blood cancer and the next year, both drugs were approved for multiple myeloma.
There arent a lot of lepers in the United States, but there are a lot of people who wanted to use it for other uses, said Robert DAmato, a surgery director at Boston Childrens Hospital, whose research in the 1990s pointed to thalidomides potential.
Last year, Thalomid and its successors, Revlimid and Pomalyst, accounted for $6.97 billion, or more than 75 percent, of Celgenes revenue. The company has pledged to double total sales to more than $21 billion by 2020. The stock has soared 310 percent, more than fourfold, in the past five years, outperforming the Nasdaq Biotechnology Index.
Brown, 59, joined Celgene in 2001 as the company was rolling out a campaign to promote Thalomid to treat other diseases, her suit says. Around that time, she said Celgene hired almost 100 salespeople and trained them to peddle the drug to cancer doctors, an allegation the company called baseless. Brown left after a decade. She declined to comment beyond the suit.
Off-Label Prescriptions
Some studies found no overall survival benefits for cancer patients on thalidomide. But in a study published this year looking at multiple trials, Revlimid helped patients with multiple myeloma live about 2.5 years longer after a stem cell transplant than those on placebo.
From the beginning, off-label prescriptions drove Thalomids sales. In the first 12 months after its U.S. debut for leprosy, about 70 percent of the prescriptions were for oncology patients, Celgene said in an annual filing. In 2000, six years before Thalomid was approved as a cancer treatment, oncological cases accounted for 92 percent of prescriptions, according to the filing. In 2004, then-CFO Robert Hugin told investors the drug was the companys financial engine.
Executives were aware then of concerns the drug might increase the risk of blood clots in cancer patients, Brown alleges in court filings. Drugmakers are required to alert regulators of possible side effects. The former sales rep says that Celgene failed to do so, and points to an October 2000 e-mail from Todd Clark, a drug-safety official at the company. He told an employee who had sent messages about cases that linked Thalomid to clots and hadnt been reported to the FDA that putting such statements in writing in an internal Celgene document is potentially a glaring red flag to the FDA, according to the filings.
Non-Erasable Message
Clark in turn got his own warning in a February 2001 e-mail from Celgenes chief medical officer, Jerry Zeldis, saying, this is a non-erasable message that can be audited by the FDA. A few months later, Zeldis said in another e-mail filed in court that Celgene had heard of seven deaths due to clots by cancer patients taking Thalomid off label. In a deposition, he said the reports were turned over to the FDA. The regulator declined to comment on Celgenes reporting.
Zeldis declined to comment on the e-mails, and Clark couldnt be reached. Celgene disputed Browns interpretation, saying in court documents that the messages reminded employees to keep the FDA informed of possible risks. Brown also said in a deposition that Celgene had instructed salespeople to report any issues.
Celgene took other steps to rehabilitate thalidomide in the medical community, paying doctors who prescribed the drugs off label to tout them to colleagues through a speakers program, Brown said in court filings. Celgene paid 159 physicians $2.1 million in 2015 for services such as speaking about Revlimid, Thalomid and Pomalyst, according to government records.
Promotional Speaker
Among the recipients was William Bensinger, a Seattle oncologist, who received $260,000 over seven years from Celgene as a promotional speaker, according to court documents. While he was getting as much as $4,000 per talk, Bensinger also served as head of a national oncologist committee that reviews the effectiveness of cancer drugs for physicians and federal insurance programs, court records show. He declined to comment on whether that constituted a conflict of interest.
Its left to the audience to decide whether or not to use the drug, Bensinger said in a deposition, denying he pressured others to prescribe Celgene products.
Working with drugmakers can be tricky, according to David Steensma, an oncologist at the Dana-Farber Cancer Institute in Boston. Celgene paid him $26,262 to help track patients with certain blood cancers, according to government records. Steensma said he wasnt part of the speakers program.
It is a relationship you need to be very careful with, because their motivations and their goals are not the same as yours, Steensma said. I have to sleep well at night.
Watch Next: Why Do Drug Prices Keep Going Up?
Read more: http://www.bloomberg.com//news/articles/2016-08-22/from-nightmare-drug-to-celgene-blockbuster-thalidomide-is-back