Wall Street veteran Sara Furber is heading up listings at IEX, the stock exchange made famous by Michael Lewis
Like many people on Wall Street and beyond, Sara Furber devoured Michael Lewiss Flash Boys, the best-selling book that argued high-speed traders had rigged the worlds biggest stock markets. Now, Furber has been tasked with proving that executives and investors really want an alternative.
Lewiss book told the tale of Brad Katsuyama, who, while working at Royal Bank of Canada, spotted what he saw as a gigantic ripoff in the financial markets and set up a company, IEX, he hoped would end it.
Last year, he hired Furber, a 20-year Wall Street veteran and managing director at Morgan Stanley, to head up the new stock exchanges listing business poaching business from the New York Stock Exchange and Nasdaq, arguably the two most powerful stock markets in the world.
Next month, Furber hopes IEX will be up and running with its first listing as the exchange takes on a market that has been dominated by the two giants. Giants, she and Katsuyama argue, that have allowed the financial markets to be controlled by the interests of a subset of traders more interested in making a very quick buck than in long term investors.
From the outside looking in it was hard to really understand the level of conflicts that existed and the behaviour that existed. Reading Flash Boys was a window into that, says Furber, sitting in an office 44 floors above downtown Manhattan.
Having spent a year here, she says the levels of complexity and the level of conflicts that exist in the system still exist and in fact there may be other ones that we are seeing as we get further into it.
As the fledgling exchange tries to make inroads, Furber will become one of Wall Streets most high profile women.
After two decades in finance she is a little saddened that that is the case. Women on Wall Street are an important constituency and I would love to see more of them, she says. But there has not been as much improvement as she would like to see.
There are still very few women at the senior ranks and it is still very difficult, she says. She wonders if part of it is the perceived demands of the job.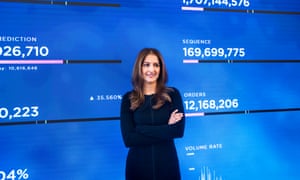 Read more: https://www.theguardian.com/business/2017/sep/18/wall-street-stock-exchange-michael-lewis-sara-furber