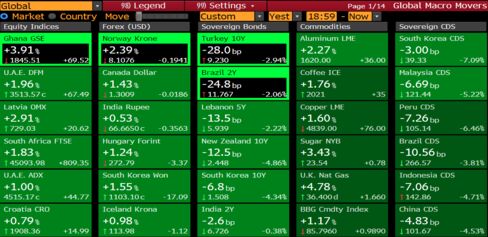 From the U.S. to Europe and Asia, markets are sending a clear signal — the era of cheap money is far from over.
Traders piled into equities, bonds and commodities after the Federal Reserve reined in its outlook for future interest-rate increases, soothing concern that central banks globally would taper stimulus efforts. U.S. stocks approached record highs, bonds in the euro region had their best day since Brexit, while the dollar slipped against most major currencies. The decision also gave fresh impetus to emerging-market assets, with Russia and Argentina announcing debt sales. Commodities jumped for a sixth straight day as oil topped $46 a barrel.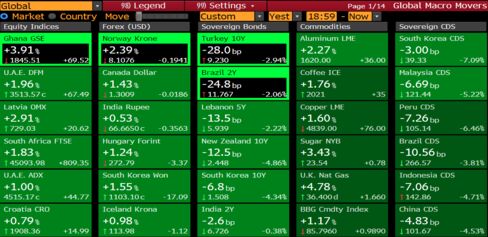 Attempts by major central banks to boost growth with looser policy have propelled stocks since the global financial crisis, and government bond yields have fallen to record lows. Hours before the Fed scaled back its tightening plans Wednesday, Japan tweaked its stimulus program, fueling bets that Europe will keep its easing stance. Thomas Lee, the biggest equity bull on Wall Street, said the U.S. monetary restraint is one more reason to bet on share gains. Meanwhile, former Fed Chairman Alan Greenspan called the rally in Treasuries unsustainable, and Janus Capital Groups Bill Gross said a bear market has been delayed.
Its a bit of a relief rally, said Chris Gaffney, the president of EverBank World Markets in St. Louis. Now we are onto the next piece of uncertainty, which is third-quarter earnings and, of course, the election.
With central banks moving off center stage following the Fed and BOJ meetings, investors will turn their attention to the first of three U.S. presidential debates on Monday and the earnings season due to get underway in about three weeks. Data Thursday was mixed for the worlds largest economy — sales of previously owned homes declined in August, while filings for unemployment benefits dropped last week to match the lowest level since April.
Stocks
MSCIs gauge of global equities climbed 1.2 percent as of 4:15 p.m. in New York, the All-Country World Indexs first back-to-back gain of more than 1 percent since the end of June. Emerging-market shares posted their biggest advance in more than two months.
The S&P 500 Index added 0.7 percent to 2,177.18, rising back above its 50-day moving average for the first time in almost two weeks. The Nasdaq Composite Index rose to an all-time high.
Computer and software stocks in the mega-cap realm keep vaulting to records at a rate not seen since before the dot-com bubble. While the Feds decision Wednesday to leave interest rates unchanged is boosting the broader market, optimism over fourth-quarter earnings is giving technology companies an extra boost, according to Alan Gayle, a senior strategist at RidgeWorth Investments.
Technology is an easy place to invest in if youre playing a turnaround in corporate profits and potential turn in capital spending, Gayle said. If you think weve gone through the worst of the profit downturn, which most people believe, the first beneficiary is likely to be technology.
For the first time since Bloomberg began compiling 2016 targets last year, forecasters have increased their estimates for the level at which the Stoxx Europe 600 Index will end in December. They now see the gauge hitting 346, according to the average of 10 projections compiled by Bloomberg, up from 334 last month. The measure, propelled to its biggest jump in almost three weeks by the Fed, closed 0.5 percent above that level Thursday.
Futures on Asian indexes signaled gains, with markets in Japan to resume Friday after missing out on the post-Fed risk rally. Contracts on the Nikkei 225 Stock Average traded in Chicago jumped 1.6 percent, while futures on equity benchmarks in Australia, South Korea, Hong Kong and China climbed at least 0.3 percent.
Bonds
Ten-year Treasury yields dropped three basis points, or 0.03 percentage point, to 1.62 percent, according to Bloomberg Bond Trader data, declining for a third straight session.
Yields will remain at historically low levels for some time, said Bill Irving, co-manager of Fidelity Government Income Fund, according to the transcript of an interview on his firms website. In that environment, Id be cautious about reaching for yield.
Treasuries have rallied this year as economic circumstances in the U.S. and abroad caused the Fed to delay tightening policy multiple times after a liftoff from near zero in December. While signs of U.S. labor-market strength have led bond traders to price in the growing likelihood of a rate increase by year-end, other data such as August retail sales and industrial production have shown declines.
The probability of a Fed move this year is about 59 percent, according to futures data compiled by Bloomberg. Still, the tightening cycle is poised to be the slowest and shallowest in recent history, based on the market for overnight index swaps, which reflect expectations for the fed funds effective rate.
Benchmark German 10-year bund yields dropped the most since June 24, while those on Spanish five- and 10-year securities slid to all-time lows. The biggest gains were in longer-dated securities, which are more sensitive to the outlook for inflation and had underperformed last week in the run up to the BOJ and Fed meetings.
Russia offered investors $1.25 billion of 4.75 percent bonds in a tap of the 2026 notes it sold in May, according to the Finance Ministry. The Eurobonds were priced at 106.75 percent of face value, the ministry said. Meanwhile, Argentina has picked three banks to pitch an offering of at least 500 million euros ($562 million) bonds to European investors this month.
Currencies
Bloombergs Dollar Spot Index, which tracks the greenback against 10 major peers, dropped 0.1 percent, swelling its decline this year to about 4 percent. The greenback fell against most higher-yielding currencies including South Koreas won and the Mexican peso.
The U.S. dollars decline has more weeks to go, we think about two months, Hans Redeker, Morgan Stanleys chief global currency strategist in London, said in an interview with Bloomberg TV. We suggest that the U.S. dollar will extend its decline, index-wise, between 4 percent to 5 percent.
Elsewhere in the world, the rand halted a six-day rally after South Africas Reserve Bank left interest rates unchanged for a third straight meeting and it signaled it may be close to the end of its policy-tightening cycle. Norways krone led gains among major currencies after the nations central bank refrained from cutting interest rates. New Zealands dollar weakened for the first time in four days after policy makers signaled further easing.
Commodities
The weaker dollar spurred gains in raw materials as the Bloomberg Commodity Index climbed for a sixth day, the longest advance in a month.
Oil rose to a two-week high after rival OPEC members Saudi Arabia and Iran met in Vienna a week before the organization holds talks in Algeria.
Futures rose 2.2 percent to $46.32 a barrel in New York. Officials from Saudi Arabia and Iran, whose rivalry derailed an oil supply accord earlier this year, along with fellow Organization of Petroleum Exporting Countries member Qatar, met at the blocs headquarters. U.S. crude supplies dropped to the lowest level since February, trimming stockpiles that remain at the highest seasonal level in at least three decades, government data showed Wednesday.
The Saudi talks with Iran increase the likelihood of an agreement next week, said Bob Yawger, director of the futures division at Mizuho Securities USA Inc. in New York. The Iraqis are saying its the right time for OPEC to make a deal, which is also supportive.
Aluminum and nickel led a surge in industrial metals, with the London Metal Exchange LMEX Index jumping 2.1 percent Thursday, the most since July 12. Nickel has been surging since the Philippines began checking mines as part of an environmental audit that may lead to mass suspensions. The Southeast Asian country is the worlds largest mined nickel supplier.
Gold futures jumped 1 percent to $1,344.70, their highest price in more than a month.
Read more: http://www.bloomberg.com//news/articles/2016-09-21/dollar-near-1-month-low-versus-yen-after-fed-as-stocks-oil-jump