S&P 500 falls 1.8% and Nasdaq drops 2.6% as investors fret that Trump woes could derail his pro-business agenda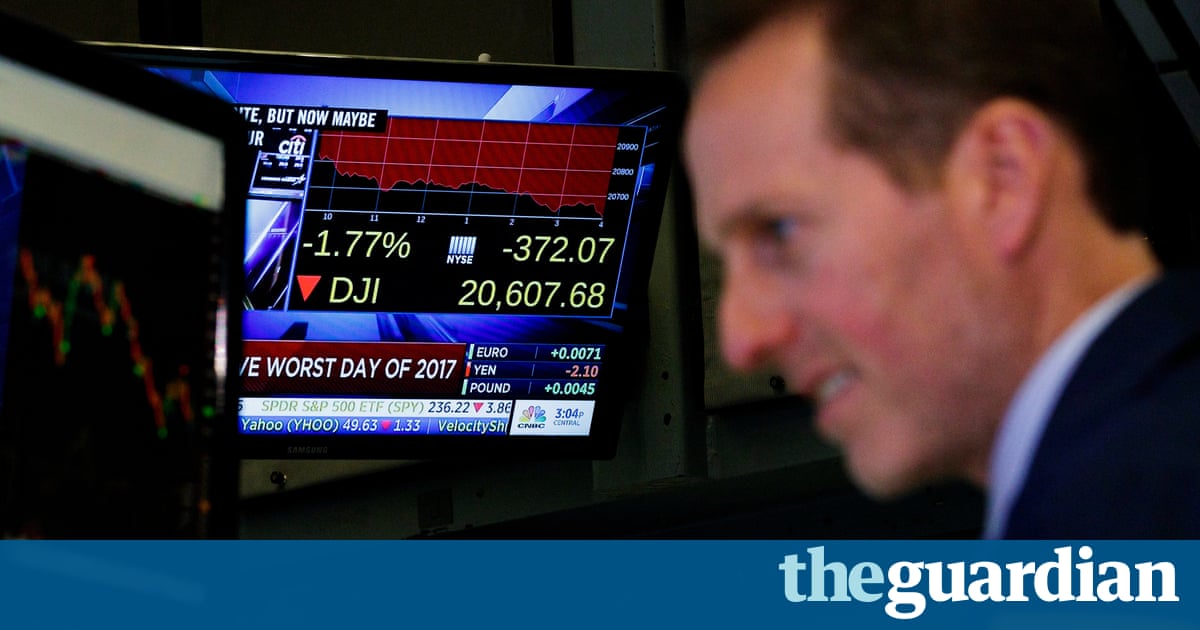 Turmoil in Washington DC triggered a sell-off on Wall Street on Wednesday, with US stocks falling sharply as investors fretted that Donald Trumps latest woes could derail his pro-business agenda.
The Dow Jones industrial average fell more than 370 points (1.8%), the S&P 500 fell 1.8% and the tech-heavy Nasdaq dropped 2.6% as the value of the dollar dipped and government bond prices fell.
The falls, the sharpest since before the US election last November, ended an unusually long period of calm in the markets. Financial stocks, which had soared in the months since the election, slumped the most as bond yields declined and traders piled into utilities, gold and other traditional safe-haven assets.
Investors are questioning whether Trumps agenda can remain on track in light of the growing questions and allegations playing out in the media, said Quincy Krosby, a market strategist at Prudential Financial.
You could see gold was up, the dollar weakened and money went into the treasury markets, Krosby said. As long as it seems as if the Trump agenda can be realized before the midterm election, its OK with the market, but once you introduce uncertainty into that trajectory, thats something the market has to reassess.
The slump came after the White House was forced to deny reports on Tuesday that Trump had allegedly made a personal appeal to the now fired FBI director, James Comey, to drop the bureaus investigation into the former national security adviser Michael Flynn.
Despite the denial, the latest political drama weighed on markets, stoking concerns over how the potential fallout may affect the Trump administrations ability to pass corporate tax cuts and other business-friendly reforms.
Read more: https://www.theguardian.com/business/2017/may/17/dow-jones-stock-markets-drop-donald-trump